Over the past two weeks I have been on vacation. Also, just before I went on vacation, my desktop computer (which is attached to the scanner and is my photoshop machine) suffered a video card meltdown. I have brought it back to struggling status, but it's not really usable at this time. Photoshop won't run, and the resolution is stuck at 640x480 with 4-bit(!) color. Ahh, takes me back. Also makes it impossible to crop or resize my scans.
That explains why this scan is so badly done.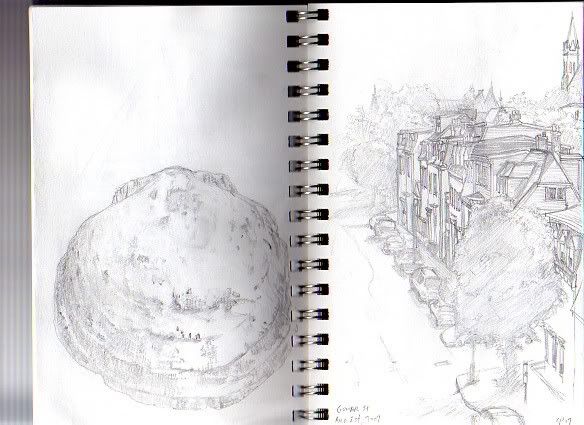 Anyway, on the left, a scallop shell I picked up on the beach, which actually had these really nice purple marks on it. The sketch is a poor imitation indeed.
On the right, row-houses, which is a fairly typical thing to draw, given where I was.
Both were useful exercises, or so I thought at the time.