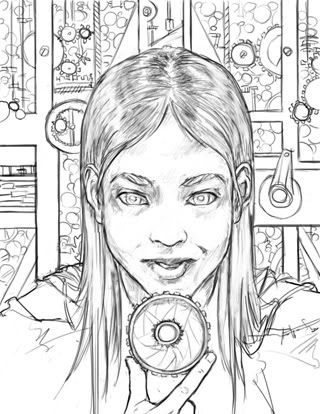 Today I read (again) Tim Akers' story "The Algorithm" in Interzone issue 213 (I think it was 213... maybe 212). I like the story, but I have to be honest, I didn't like the artwork. It was passable art (although really it looked a bit rushed, I thought). What I really didn't like, though, was that it seemed to give away too much of the story.
I suppose it could be argued that people won't know what the picture depicts until they get to that point in the story (I had read the story before I saw the artwork, so my opinion is suspect). But anyway, I thought it would be interesting to see if I could quickly work up my image of a illustration for the story.
This is the result. I actually wanted to have the girl kissing or licking the cog, somehow making a more physical connection to it, but I couldn't get those images to work out. I also wanted her expression to be more... enigmatic... or threatening... or something. So, I'm not entirely happy with this image, but it's kinda OK, the day is over, and I've spent about four hours on this.